Instalace archlinuxu na starší PC
Čas od času se v diskuzích objevujou dotazy jak a jestli je vůbec linux použitelný na starším hardware. Nedávno jsem tak probíral svoje domácí uložiště elektroodpadu a našel jsem tam starší německý desktop z roku 2006.
Fujitsu Siemens ESPRIMO P2501
CPU jednojádrový Celeron D352
RAM 1x1GB DDR2
HDD 80GB sata
Grafika integrovaná na desce i915GV
Ten počítač byl low-end už v době svojeho vzniku, dneska by udělal dojem možná tak na nějakého nadšence do archeológie. Originální Windows XP odmítaly naběhnout a přes všecky moje snahy v nouzovém režimu, zarputile končily v aktivační smyčce. Instalovat na to nějaké 15 let staré 32bit distro by nebyla ta správná zábava konečně ten Celeron už umí 64bit SSE2 SSE3 tak jsem si řekl, že když už používám archlinux, zkusím ho tak z hecu nacpat na stařečka taky.
Instalaci zkusím popsat trochu víc podrobně krok za krokem, tak jak probíhala. Používám šifrování disku plus pár dalších drobností jako bootloader syslinux atd. Instalační USB fleška co tu mám je z letošního března, navíc arch si běhěm instalace stejně všecko stahuje online z netu takže by systém měl být aktuální hned.
Na začátku v ůvodním menu, bylo potřeba zmáčnout TAB a doplnit jádru
video=800x600
. Když se to neudělá, naběhne framebuffer v maximálním rozlišení co monitor umí a na čtení toho titěrného písma je potom potřeba mikroskop. Přemazání starého disku:
pv /dev/urandom > /dev/sda
To zabralo asi 15-20 minut. 80GB není tak moc. Fdiskem jsem udělal novou tabulku a v ní dva oddíly. První sda1 FAT32 který bude jako
/boot
a zbytek sda2 jako
/
.
fdisk -l /dev/sda
Disk /dev/sda: 74.53 GiB, 80026361856 bytes, 156301488 sectors
Disk model: WDC WD800JD-55MU
Units: sectors of 1 * 512 = 512 bytes
Sector size (logical/physical): 512 bytes / 512 bytes
I/O size (minimum/optimal): 512 bytes / 512 bytes
Disklabel type: dos
Disk identifier: 0xb8fc9564

Device     Boot   Start       End   Sectors  Size Id Type
/dev/sda1  *       2048   2099199   2097152    1G  c W95 FAT32 (LBA)
/dev/sda2       2099200 156301487 154202288 73.5G 83 Linux

Pro
/boot
by klidně stačilo 100MB ale nechal jsem rači víc, kdyby bylo potřeba v budoucnu na nějaké experimenty. Dál jsem nastavil šifrování systémového disku:
cryptsetup -v -y luksFormat /dev/sda2
cryptsetup open /dev/sda2 sysdisk
Vytvoření a mount filesystémů:
mkfs.ext4 /dev/mapper/sysdisk
mount /dev/mapper/sysdisk /mnt
mkfs.fat -F32 /dev/sda1
mkdir /mnt/boot
mount /dev/sda1 /mnt/boot
Doteď to byla jenom taková předehra. Ta opravdová instalace začíná až teď. Stáhnem z internetu nějaký ten základ:
pacstrap /mnt base base-devel linux linux-firmware mtools syslinux man-db vim dhcpcd openssh ntp
Vygenerujem nový
/etc/fstab
:
genfstab -U /mnt >> /mnt/etc/fstab
Jako bootloader jsem chtěl syslinux. Archlinux má pro tápajícího uživatele předchystaný pomocný skript
syslinux-install_update
který nakopíruje všecko potřebné do
/boot
, automaticky pomocí
dd
nakopíruje MBR na správné místo, nastaví na oddíl boot flag atd. S ním je instalace zavaděče brnkačka:
syslinux-install_update -i -a -m -c /mnt
Po tomto kroku se musí upravit konfigurák syslinuxu
/mnt/boot/syslinux/syslinux.cfg
aby nám to po restartu naběhlo tak jak chceme:
APPEND root=/dev/mapper/sysdisk cryptdevice=/dev/sda2:sysdisk rw video=800x600 net.ifnames=0 audit=0 mitigations=off
Tady jsem se přepnul pomocí chroot na nový systém:
arch-chroot /mnt
Pár základních nastavení. Čas, locales, hostname:
ln -sf /usr/share/zoneinfo/UTC /etc/localtime
vim /etc/locale.gen
locale-gen
echo LANG=en_GB.UTF-8 > /etc/locale.conf
echo nuna > /etc/hostname
Teď bylo potřeba vygenerovat nový kernel image, jinak by to po restartu nenašlo náš šifrovaný disk. Do souboru
/etc/mkinitcpio.conf
se musí přidat hook encrypt:
HOOKS="base udev autodetect encrypt modconf block filesystems keyboard fsck"
A potom spustit:
mkinitcpio -p linux
Tady je vhodné nastavit rootovi nějaké heslo.
passwd
Já jsem na toto v návalu emocí zapomněl a po restartu mě čekalo překvapení. Systém sice krásně naběhnul, ale nešlo lognout. Ještě že resetovat heslo rootovi na linuxu
je tak snadné

Po restartu se muselo udělat pár úprav, aby se to trochu dalo používat. Jeden giga paměti je pro desktop už docela na hraně tak trocha swapu může pomoct:
pv -Ss 2g /dev/urandom > /swapfile
chmod 600 /swapfile
mkswap -U clear /swapfile
swapon /swapfile
Je fajn mít swap přímo v
/etc/fstab
aby se aktivoval automaticky:
/swapfile     none    swap    defaults        0 0
Vypnout coredumpy v souboru
/etc/security/limits.conf
:
*       hard    core    0
Nastavit trošku lidské doplňování tabulátorem v shellu:
# /etc/inputrc
TAB: menu-complete
"\e[Z": menu-complete-backward
Vytvoříme obyčejného uživatele, umožníme mu používat
sudo
a nastavíme mu autologin aby nemusel zadávat heslo dvakrát (jednou k disku a podruhé k lokálnímu ůčtu). Je toho víc ale abych tu neopisoval půlku archwiki toto musí prozačátek stačit. Takto nainstalovaný systém sežere přibližně 90MB paměti. To mi nepřijde jako nějaká extra hrůza na to že máme rok 2022, běží nám tam systemd, funguje nám síť a bash ... Trošku jsem měl obavy jestli to šifrování disku nebude brzdit processor no ukázalo se, že docela stíhá. Defaultně se používá aes-xts:
cryptsetup benchmark
# Tests are approximate using memory only (no storage IO).
PBKDF2-sha1       487256 iterations per second for 256-bit key
PBKDF2-sha256     731224 iterations per second for 256-bit key
PBKDF2-sha512     321254 iterations per second for 256-bit key
PBKDF2-ripemd160  405168 iterations per second for 256-bit key
PBKDF2-whirlpool  250615 iterations per second for 256-bit key
argon2i       4 iterations, 93890 memory, 4 parallel threads (CPUs) for 256-bit key (requested 2000 ms time)
argon2id      4 iterations, 106736 memory, 4 parallel threads (CPUs) for 256-bit key (requested 2000 ms time)
#     Algorithm |       Key |      Encryption |      Decryption
        aes-cbc        128b        66.6 MiB/s       115.9 MiB/s
    serpent-cbc        128b        44.3 MiB/s        75.0 MiB/s
    twofish-cbc        128b        92.9 MiB/s       110.1 MiB/s
        aes-cbc        256b        76.1 MiB/s        91.0 MiB/s
    serpent-cbc        256b        53.0 MiB/s        75.2 MiB/s
    twofish-cbc        256b       106.8 MiB/s       111.0 MiB/s
        aes-xts        256b       113.0 MiB/s       115.1 MiB/s
    serpent-xts        256b        66.6 MiB/s        73.1 MiB/s
    twofish-xts        256b        97.6 MiB/s       107.3 MiB/s
        aes-xts        512b        89.2 MiB/s        90.6 MiB/s
    serpent-xts        512b        72.5 MiB/s        72.9 MiB/s
    twofish-xts        512b       106.4 MiB/s       107.3 MiB/s

Šifrování je dneska už nutnost. Nechceme přece aby se nám v datech hrabala každá opice, která dokáže použít příkaz mount. Nešifrovaný /boot na domácím pc zas tak moc nevadí pokud nám v baráku neřádí nějaká zlá pokojská.
Protože se to má používat jako desktop, slušelo by se doinstalovat xorg, pár nějakých fontů, webový prohlížeč, něco na multimédia atd. Jako správce oken používám
icewm
v nastavení kdy vypadá dost podobně jak windows95. Trochu pokročilejší správce schránky
clipit
, zámek obrazovky
xtrlock
, na video/zvuk
mpv
na obrázky někdy mpv někdy
pix
(když chcu náhledy). Text edituju střídavě ve
vimu
nebo
geany
, podle nálady. Celkový dojem ještě umocňuje
Chicago95
. Přehledný, hranatý šedomodrý svět bez rušivých módních výstřelků, tak to mám rád. S tímto už jsme po asi 40ti sekundách od startu počítače na zhruba 140MB obsazené RAM v grafickém režimu. Taky se vyskytl drobný zádrhel s 3D akcelerací. Nějaký horlivý pokrokový revolucionář vyhodil z
mesa 22
podporu pro starší intel grafiky. Naštěstí existuje balíček
mesa-amber
, glxgears teď dává místo původních 200 asi 680fps. Přehrávání h264 videa velikosti 720p přehrávačem mpv žere tak plusmínus 65% výkonu CPU(záleží na bitrate). S 1080p už je to horší. Ve scénách kde se obraz hýbe málo se to ještě jakžtakž dá, ale jak přijde nějaká akčnější scéna nebo nedejbože začne třeba pršet, obraz se začne škubat.
Na web jsem už zkoušel ledaco, ale od té doby co umřela stará opera12 jenom skřípu zubama. Jako nejmenší zlo mi v současné neutěšené době přijde trochu potuněný firefox-esr asi. Mimochodem pamatujete se ješte na ten hype přibližně dvacet let zpátky? "Nahraďte svůj beznadějně zastaralý, pomalý fujky fuj internet explorer naším rychlým moderním ůžasným firefoxem!". Chrome zákeřně přibalený ke každému instalačnímu balíčku pro windows. Stačilo trošku nedávat pozor při instalaci libovolného setup.exe, odklikávat default volby a už to měls nasáčkované v počítači jak virus(nevím jak se říká softwaru nainstalovanému z nepozornosti). My co jsme tenkrát používali operu, jsme se jenom uculovali. Tehdá jsme netušili jaké inferno nás čeká za dvacet let.
Okamžik pravdy aneb youtube v prohlížeči a hry
Trochu překvapivě není úzkým hrdlem pro prohlížení webu málo RAM, ale pomalý CPU. ublock a defaultně vypnutý javaskript jsou nutnost. Nesmí se otevřít víc jak 4-5 tabů nebo to začne divoce swapovat. Na prohlížení webů jak je třeba abclinuxu to ale stačí v pohodě. Načtení webu youtube firefoxem trvá dýl jak boot celého počítače, (zkoušel jsem i prohlížeč vivaldi ale bylo to snad ještě lenivější jak firefox) no odměna za trpělivost nebyla nakonec tak hořká. 480p video při vytížení CPU na 100% bylo jakžtakž dívatelné. Z her jsem zkoušel jenom pár starých kousků v dosboxu a moje oblíbené Diablo2 Eastern Sun na tom ve wine taky lítá jak z praku. Něco novějšího jsem ani neměl chuť a odvahu zkoušet.
Takže když se chce jde to. Né že né. I když to občas trošku drhne kvůli rozežranýmu webu.



[    0.000000] Linux version 5.18.10-arch1-1 (linux@archlinux) (gcc (GCC) 12.1.0, GNU ld (GNU Binutils) 2.38) #1 SMP PREEMPT_DYNAMIC Thu, 07 Jul 2022 17:18:13 +0000
[    0.000000] Command line: BOOT_IMAGE=../vmlinuz-linux root=/dev/mapper/sysdisk cryptdevice=/dev/sda2:sysdisk rw video=640x480 net.ifnames=0 audit=0 mitigations=off initrd=../initramfs-linux.img
[    0.000000] CPU0: Hyper-Threading is disabled
[    0.000000] x86/fpu: x87 FPU will use FXSAVE
[    0.000000] signal: max sigframe size: 1440
[    0.000000] BIOS-provided physical RAM map:
[    0.000000] BIOS-e820: [mem 0x0000000000000000-0x000000000009f7ff] usable
[    0.000000] BIOS-e820: [mem 0x000000000009f800-0x000000000009ffff] reserved
[    0.000000] BIOS-e820: [mem 0x00000000000e0000-0x00000000000fffff] reserved
[    0.000000] BIOS-e820: [mem 0x0000000000100000-0x000000003f6effff] usable
[    0.000000] BIOS-e820: [mem 0x000000003f6f0000-0x000000003f6fafff] ACPI data
[    0.000000] BIOS-e820: [mem 0x000000003f6fb000-0x000000003f6fffff] ACPI NVS
[    0.000000] BIOS-e820: [mem 0x000000003f700000-0x000000003fffffff] reserved
[    0.000000] BIOS-e820: [mem 0x00000000fec00000-0x00000000fecfffff] reserved
[    0.000000] BIOS-e820: [mem 0x00000000fee00000-0x00000000feefffff] reserved
[    0.000000] BIOS-e820: [mem 0x00000000ffb80000-0x00000000ffffffff] reserved
[    0.000000] NX (Execute Disable) protection: active
[    0.000000] SMBIOS 2.3 present.
[    0.000000] DMI: FUJITSU SIEMENS EDITION P/D2420  , BIOS 5.00 R1.23.2420                  05/11/2006
[    0.000000] tsc: Fast TSC calibration using PIT
[    0.000000] tsc: Detected 3192.005 MHz processor
[    0.009879] e820: update [mem 0x00000000-0x00000fff] usable ==> reserved
[    0.009888] e820: remove [mem 0x000a0000-0x000fffff] usable
[    0.009897] last_pfn = 0x3f6f0 max_arch_pfn = 0x400000000
[    0.009982] x86/PAT: Configuration [0-7]: WB  WC  UC- UC  WB  WC  UC- UC  
[    0.010292] total RAM covered: 1015M
[    0.010693] Found optimal setting for mtrr clean up
[    0.010695]  gran_size: 64K 	chunk_size: 16M 	num_reg: 3  	lose cover RAM: 0G
[    0.026509] Kernel/User page tables isolation: disabled on command line.
[    0.026744] RAMDISK: [mem 0x3ea34000-0x3f6effff]
[    0.026753] ACPI: Early table checksum verification disabled
[    0.026764] ACPI: RSDP 0x00000000000F78D0 000024 (v02 PTLTD )
[    0.026774] ACPI: XSDT 0x000000003F6F68E7 000044 (v01 PTLTD  ? XSDT   00050000  LTP 00000000)
[    0.026787] ACPI: FACP 0x000000003F6F699F 0000F4 (v03 FSC             00050000      000F4240)
[    0.026798] ACPI BIOS Warning (bug): 32/64X length mismatch in FADT/Pm1aControlBlock: 16/32 (20211217/tbfadt-564)
[    0.026805] ACPI BIOS Warning (bug): 32/64X length mismatch in FADT/PmTimerBlock: 32/24 (20211217/tbfadt-564)
[    0.026810] ACPI BIOS Warning (bug): 32/64X length mismatch in FADT/Gpe0Block: 64/32 (20211217/tbfadt-564)
[    0.026815] ACPI BIOS Warning (bug): Invalid length for FADT/Pm1aControlBlock: 32, using default 16 (20211217/tbfadt-669)
[    0.026820] ACPI BIOS Warning (bug): Invalid length for FADT/PmTimerBlock: 24, using default 32 (20211217/tbfadt-669)
[    0.026827] ACPI: DSDT 0x000000003F6F6A93 0044AB (v01 FSC    D2334    00050000 MSFT 02000002)
[    0.026835] ACPI: FACS 0x000000003F6FBFC0 000040
[    0.026842] ACPI: FACS 0x000000003F6FBFC0 000040
[    0.026848] ACPI: MCFG 0x000000003F6FAF3E 000040 (v01 PTLTD    MCFG   00050000  LTP 00000000)
[    0.026856] ACPI: APIC 0x000000003F6FAF7E 00005A (v01 FSC    ? APIC   00050000  CSF 00000000)
[    0.026864] ACPI: BOOT 0x000000003F6FAFD8 000028 (v01 PTLTD  $SBFTBL$ 00050000  LTP 00000001)
[    0.026870] ACPI: Reserving FACP table memory at [mem 0x3f6f699f-0x3f6f6a92]
[    0.026874] ACPI: Reserving DSDT table memory at [mem 0x3f6f6a93-0x3f6faf3d]
[    0.026876] ACPI: Reserving FACS table memory at [mem 0x3f6fbfc0-0x3f6fbfff]
[    0.026879] ACPI: Reserving FACS table memory at [mem 0x3f6fbfc0-0x3f6fbfff]
[    0.026881] ACPI: Reserving MCFG table memory at [mem 0x3f6faf3e-0x3f6faf7d]
[    0.026883] ACPI: Reserving APIC table memory at [mem 0x3f6faf7e-0x3f6fafd7]
[    0.026885] ACPI: Reserving BOOT table memory at [mem 0x3f6fafd8-0x3f6fafff]
[    0.027000] No NUMA configuration found
[    0.027003] Faking a node at [mem 0x0000000000000000-0x000000003f6effff]
[    0.027010] NODE_DATA(0) allocated [mem 0x3ea30000-0x3ea33fff]
[    0.027069] Zone ranges:
[    0.027072]   DMA      [mem 0x0000000000001000-0x0000000000ffffff]
[    0.027076]   DMA32    [mem 0x0000000001000000-0x000000003f6effff]
[    0.027081]   Normal   empty
[    0.027084]   Device   empty
[    0.027086] Movable zone start for each node
[    0.027088] Early memory node ranges
[    0.027089]   node   0: [mem 0x0000000000001000-0x000000000009efff]
[    0.027092]   node   0: [mem 0x0000000000100000-0x000000003f6effff]
[    0.027096] Initmem setup node 0 [mem 0x0000000000001000-0x000000003f6effff]
[    0.027106] On node 0, zone DMA: 1 pages in unavailable ranges
[    0.027202] On node 0, zone DMA: 97 pages in unavailable ranges
[    0.037537] On node 0, zone DMA32: 2320 pages in unavailable ranges
[    0.037556] Reserving Intel graphics memory at [mem 0x3f800000-0x3fffffff]
[    0.037836] ACPI: PM-Timer IO Port: 0xf008
[    0.037856] ACPI: LAPIC_NMI (acpi_id[0xff] high edge lint[0x1])
[    0.037873] IOAPIC[0]: apic_id 1, version 32, address 0xfec00000, GSI 0-23
[    0.037880] ACPI: INT_SRC_OVR (bus 0 bus_irq 0 global_irq 2 high edge)
[    0.037885] ACPI: INT_SRC_OVR (bus 0 bus_irq 9 global_irq 9 high level)
[    0.037892] ACPI: Using ACPI (MADT) for SMP configuration information
[    0.037897] smpboot: Allowing 1 CPUs, 0 hotplug CPUs
[    0.037926] PM: hibernation: Registered nosave memory: [mem 0x00000000-0x00000fff]
[    0.037930] PM: hibernation: Registered nosave memory: [mem 0x0009f000-0x0009ffff]
[    0.037933] PM: hibernation: Registered nosave memory: [mem 0x000a0000-0x000dffff]
[    0.037935] PM: hibernation: Registered nosave memory: [mem 0x000e0000-0x000fffff]
[    0.037939] [mem 0x40000000-0xfebfffff] available for PCI devices
[    0.037942] Booting paravirtualized kernel on bare hardware
[    0.037951] clocksource: refined-jiffies: mask: 0xffffffff max_cycles: 0xffffffff, max_idle_ns: 6370452778343963 ns
[    0.049393] setup_percpu: NR_CPUS:320 nr_cpumask_bits:320 nr_cpu_ids:1 nr_node_ids:1
[    0.051127] percpu: Embedded 63 pages/cpu s221184 r8192 d28672 u2097152
[    0.051151] pcpu-alloc: s221184 r8192 d28672 u2097152 alloc=1*2097152
[    0.051158] pcpu-alloc: [0] 0 
[    0.051206] Fallback order for Node 0: 0 
[    0.051215] Built 1 zonelists, mobility grouping on.  Total pages: 255508
[    0.051218] Policy zone: DMA32
[    0.051221] Kernel command line: BOOT_IMAGE=../vmlinuz-linux root=/dev/mapper/sysdisk cryptdevice=/dev/sda2:sysdisk rw video=640x480 net.ifnames=0 audit=0 mitigations=off initrd=../initramfs-linux.img
[    0.051376] audit: disabled (until reboot)
[    0.051427] Unknown kernel command line parameters "BOOT_IMAGE=../vmlinuz-linux cryptdevice=/dev/sda2:sysdisk", will be passed to user space.
[    0.052129] Dentry cache hash table entries: 131072 (order: 8, 1048576 bytes, linear)
[    0.052507] Inode-cache hash table entries: 65536 (order: 7, 524288 bytes, linear)
[    0.054138] mem auto-init: stack:all(zero), heap alloc:on, heap free:off
[    0.067308] Memory: 963660K/1038904K available (14343K kernel code, 2099K rwdata, 11004K rodata, 1860K init, 3356K bss, 74984K reserved, 0K cma-reserved)
[    0.067979] SLUB: HWalign=64, Order=0-3, MinObjects=0, CPUs=1, Nodes=1
[    0.068025] ftrace: allocating 44925 entries in 176 pages
[    0.082447] ftrace: allocated 176 pages with 3 groups
[    0.082751] Dynamic Preempt: full
[    0.082840] rcu: Preemptible hierarchical RCU implementation.
[    0.082843] rcu: 	RCU restricting CPUs from NR_CPUS=320 to nr_cpu_ids=1.
[    0.082846] rcu: 	RCU priority boosting: priority 1 delay 500 ms.
[    0.082848] 	Trampoline variant of Tasks RCU enabled.
[    0.082850] 	Rude variant of Tasks RCU enabled.
[    0.082851] 	Tracing variant of Tasks RCU enabled.
[    0.082854] rcu: RCU calculated value of scheduler-enlistment delay is 30 jiffies.
[    0.082856] rcu: Adjusting geometry for rcu_fanout_leaf=16, nr_cpu_ids=1
[    0.091586] NR_IRQS: 20736, nr_irqs: 256, preallocated irqs: 16
[    0.092039] kfence: initialized - using 2097152 bytes for 255 objects at 0x(____ptrval____)-0x(____ptrval____)
[    0.093795] Console: colour VGA+ 80x25
[    0.093817] printk: console [tty0] enabled
[    0.093875] ACPI: Core revision 20211217
[    0.094045] APIC: Switch to symmetric I/O mode setup
[    0.094451] ..TIMER: vector=0x30 apic1=0 pin1=2 apic2=-1 pin2=-1
[    0.110706] clocksource: tsc-early: mask: 0xffffffffffffffff max_cycles: 0x2e02c947f19, max_idle_ns: 440795256457 ns
[    0.110722] Calibrating delay loop (skipped), value calculated using timer frequency.. 6386.01 BogoMIPS (lpj=10640016)
[    0.110729] pid_max: default: 32768 minimum: 301
[    0.110859] LSM: Security Framework initializing
[    0.110874] landlock: Up and running.
[    0.110877] Yama: becoming mindful.
[    0.110904] LSM support for eBPF active
[    0.111005] Mount-cache hash table entries: 2048 (order: 2, 16384 bytes, linear)
[    0.111018] Mountpoint-cache hash table entries: 2048 (order: 2, 16384 bytes, linear)
[    0.111689] CPU0: Thermal monitoring enabled (TM1)
[    0.111723] process: using mwait in idle threads
[    0.111730] Last level iTLB entries: 4KB 128, 2MB 128, 4MB 128
[    0.111734] Last level dTLB entries: 4KB 64, 2MB 0, 4MB 64, 1GB 0
[    0.111748] Speculative Store Bypass: Vulnerable
[    0.136384] Freeing SMP alternatives memory: 36K
[    0.244576] smpboot: CPU0: Intel(R) Celeron(R) D CPU 3.20GHz (family: 0xf, model: 0x6, stepping: 0x4)
[    0.245117] cblist_init_generic: Setting adjustable number of callback queues.
[    0.245125] cblist_init_generic: Setting shift to 0 and lim to 1.
[    0.245181] cblist_init_generic: Setting shift to 0 and lim to 1.
[    0.245251] cblist_init_generic: Setting shift to 0 and lim to 1.
[    0.245296] Performance Events: Netburst events, Netburst P4/Xeon PMU driver.
[    0.245316] ... version:                0
[    0.245318] ... bit width:              40
[    0.245319] ... generic registers:      18
[    0.245320] ... value mask:             000000ffffffffff
[    0.245323] ... max period:             0000007fffffffff
[    0.245324] ... fixed-purpose events:   0
[    0.245326] ... event mask:             000000000003ffff
[    0.245569] rcu: Hierarchical SRCU implementation.
[    0.246640] NMI watchdog: Enabled. Permanently consumes one hw-PMU counter.
[    0.246748] smp: Bringing up secondary CPUs ...
[    0.246751] smp: Brought up 1 node, 1 CPU
[    0.246755] smpboot: Max logical packages: 1
[    0.246757] smpboot: Total of 1 processors activated (6386.01 BogoMIPS)
[    0.247279] devtmpfs: initialized
[    0.247380] x86/mm: Memory block size: 128MB
[    0.247496] ACPI: PM: Registering ACPI NVS region [mem 0x3f6fb000-0x3f6fffff] (20480 bytes)
[    0.247609] clocksource: jiffies: mask: 0xffffffff max_cycles: 0xffffffff, max_idle_ns: 6370867519511994 ns
[    0.247624] futex hash table entries: 256 (order: 2, 16384 bytes, linear)
[    0.247767] pinctrl core: initialized pinctrl subsystem
[    0.248007] PM: RTC time: 15:06:47, date: 2022-07-13
[    0.249922] NET: Registered PF_NETLINK/PF_ROUTE protocol family
[    0.250290] DMA: preallocated 128 KiB GFP_KERNEL pool for atomic allocations
[    0.250372] DMA: preallocated 128 KiB GFP_KERNEL|GFP_DMA pool for atomic allocations
[    0.250449] DMA: preallocated 128 KiB GFP_KERNEL|GFP_DMA32 pool for atomic allocations
[    0.250869] thermal_sys: Registered thermal governor 'fair_share'
[    0.250875] thermal_sys: Registered thermal governor 'bang_bang'
[    0.250877] thermal_sys: Registered thermal governor 'step_wise'
[    0.250878] thermal_sys: Registered thermal governor 'user_space'
[    0.250879] thermal_sys: Registered thermal governor 'power_allocator'
[    0.250911] cpuidle: using governor ladder
[    0.250922] cpuidle: using governor menu
[    0.251015] Simple Boot Flag at 0x69 set to 0x1
[    0.251058] acpiphp: ACPI Hot Plug PCI Controller Driver version: 0.5
[    0.251257] PCI: MMCONFIG for domain 0000 [bus 00-0a] at [mem 0xd0000000-0xd0afffff] (base 0xd0000000)
[    0.251269] PCI: not using MMCONFIG
[    0.251276] PCI: Using configuration type 1 for base access
[    0.254242] kprobes: kprobe jump-optimization is enabled. All kprobes are optimized if possible.
[    0.254625] HugeTLB: can free 7 vmemmap pages for hugepages-2048kB
[    0.254635] HugeTLB registered 2.00 MiB page size, pre-allocated 0 pages
[    0.255632] ACPI: Added _OSI(Module Device)
[    0.255637] ACPI: Added _OSI(Processor Device)
[    0.255639] ACPI: Added _OSI(3.0 _SCP Extensions)
[    0.255641] ACPI: Added _OSI(Processor Aggregator Device)
[    0.255644] ACPI: Added _OSI(Linux-Dell-Video)
[    0.255646] ACPI: Added _OSI(Linux-Lenovo-NV-HDMI-Audio)
[    0.255648] ACPI: Added _OSI(Linux-HPI-Hybrid-Graphics)
[    0.261381] ACPI: 1 ACPI AML tables successfully acquired and loaded
[    0.263438] ACPI: Interpreter enabled
[    0.263480] ACPI: PM: (supports S0 S1 S3 S4 S5)
[    0.263484] ACPI: Using IOAPIC for interrupt routing
[    0.263541] PCI: MMCONFIG for domain 0000 [bus 00-0a] at [mem 0xd0000000-0xd0afffff] (base 0xd0000000)
[    0.264549] PCI: MMCONFIG at [mem 0xd0000000-0xd0afffff] reserved in ACPI motherboard resources
[    0.264584] PCI: Using host bridge windows from ACPI; if necessary, use "pci=nocrs" and report a bug
[    0.264915] ACPI: Enabled 9 GPEs in block 00 to 1F
[    0.273832] ACPI: PCI Root Bridge [PCI0] (domain 0000 [bus 00-ff])
[    0.273853] acpi PNP0A08:00: _OSC: OS supports [ExtendedConfig ASPM ClockPM Segments MSI EDR HPX-Type3]
[    0.273867] acpi PNP0A08:00: _OSC: OS requested [PCIeHotplug SHPCHotplug PME AER PCIeCapability LTR DPC]
[    0.273873] acpi PNP0A08:00: _OSC: platform willing to grant [PCIeHotplug SHPCHotplug PME AER PCIeCapability LTR DPC]
[    0.273876] acpi PNP0A08:00: _OSC: platform retains control of PCIe features (AE_NOT_FOUND)
[    0.273890] acpi PNP0A08:00: [Firmware Info]: MMCONFIG for domain 0000 [bus 00-0a] only partially covers this bridge
[    0.274412] PCI host bridge to bus 0000:00
[    0.274420] pci_bus 0000:00: root bus resource [io  0x0000-0x0cf7 window]
[    0.274424] pci_bus 0000:00: root bus resource [io  0x0d00-0xffff window]
[    0.274428] pci_bus 0000:00: root bus resource [mem 0x000a0000-0x000bffff window]
[    0.274431] pci_bus 0000:00: root bus resource [mem 0x000c8000-0x000dffff window]
[    0.274434] pci_bus 0000:00: root bus resource [mem 0x40000000-0xcfffffff window]
[    0.274437] pci_bus 0000:00: root bus resource [mem 0xe0000000-0xfebfffff window]
[    0.274440] pci_bus 0000:00: root bus resource [mem 0xfed00400-0xfedfffff window]
[    0.274442] pci_bus 0000:00: root bus resource [mem 0xfef00000-0xffafffff window]
[    0.274445] pci_bus 0000:00: root bus resource [mem 0xffc00000-0xffefffff window]
[    0.274448] pci_bus 0000:00: root bus resource [bus 00-ff]
[    0.274474] pci 0000:00:00.0: [8086:2580] type 00 class 0x060000
[    0.274597] pci 0000:00:02.0: [8086:2582] type 00 class 0x030000
[    0.274611] pci 0000:00:02.0: reg 0x10: [mem 0xf0080000-0xf00fffff]
[    0.274619] pci 0000:00:02.0: reg 0x14: [io  0x1000-0x1007]
[    0.274627] pci 0000:00:02.0: reg 0x18: [mem 0xe0000000-0xefffffff pref]
[    0.274634] pci 0000:00:02.0: reg 0x1c: [mem 0xf0040000-0xf007ffff]
[    0.274661] pci 0000:00:02.0: Video device with shadowed ROM at [mem 0x000c0000-0x000dffff]
[    0.274830] pci 0000:00:1b.0: [8086:2668] type 00 class 0x040300
[    0.274853] pci 0000:00:1b.0: reg 0x10: [mem 0xf0000000-0xf0003fff 64bit]
[    0.274944] pci 0000:00:1b.0: PME# supported from D0 D3hot D3cold
[    0.275036] pci 0000:00:1c.0: [8086:2660] type 01 class 0x060400
[    0.275077] pci 0000:00:1c.0: enabling Extended Tags
[    0.275132] pci 0000:00:1c.0: PME# supported from D0 D3hot D3cold
[    0.275283] pci 0000:00:1c.1: [8086:2662] type 01 class 0x060400
[    0.275324] pci 0000:00:1c.1: enabling Extended Tags
[    0.275378] pci 0000:00:1c.1: PME# supported from D0 D3hot D3cold
[    0.275561] pci 0000:00:1c.2: [8086:2664] type 01 class 0x060400
[    0.275603] pci 0000:00:1c.2: enabling Extended Tags
[    0.275659] pci 0000:00:1c.2: PME# supported from D0 D3hot D3cold
[    0.275811] pci 0000:00:1c.3: [8086:2666] type 01 class 0x060400
[    0.275852] pci 0000:00:1c.3: enabling Extended Tags
[    0.275907] pci 0000:00:1c.3: PME# supported from D0 D3hot D3cold
[    0.276060] pci 0000:00:1d.0: [8086:2658] type 00 class 0x0c0300
[    0.276109] pci 0000:00:1d.0: reg 0x20: [io  0x2400-0x241f]
[    0.276264] pci 0000:00:1d.1: [8086:2659] type 00 class 0x0c0300
[    0.276312] pci 0000:00:1d.1: reg 0x20: [io  0x2800-0x281f]
[    0.276459] pci 0000:00:1d.2: [8086:265a] type 00 class 0x0c0300
[    0.276507] pci 0000:00:1d.2: reg 0x20: [io  0x2c00-0x2c1f]
[    0.276647] pci 0000:00:1d.3: [8086:265b] type 00 class 0x0c0300
[    0.276695] pci 0000:00:1d.3: reg 0x20: [io  0x3000-0x301f]
[    0.276860] pci 0000:00:1d.7: [8086:265c] type 00 class 0x0c0320
[    0.276881] pci 0000:00:1d.7: reg 0x10: [mem 0xf0004000-0xf00043ff]
[    0.276972] pci 0000:00:1d.7: PME# supported from D0 D3hot D3cold
[    0.277106] pci 0000:00:1e.0: [8086:244e] type 01 class 0x060401
[    0.277318] pci 0000:00:1f.0: [8086:2640] type 00 class 0x060100
[    0.277449] pci 0000:00:1f.0: Force enabled HPET at 0xfed00000
[    0.277461] pci 0000:00:1f.0: quirk: [io  0xf000-0xf07f] claimed by ICH6 ACPI/GPIO/TCO
[    0.277468] pci 0000:00:1f.0: quirk: [io  0xf180-0xf1bf] claimed by ICH6 GPIO
[    0.277472] pci 0000:00:1f.0: LPC Generic IO decode 1 PIO at 0800-087f
[    0.277632] pci 0000:00:1f.1: [8086:266f] type 00 class 0x01018a
[    0.277652] pci 0000:00:1f.1: reg 0x10: [io  0x0000-0x0007]
[    0.277663] pci 0000:00:1f.1: reg 0x14: [io  0x0000-0x0003]
[    0.277673] pci 0000:00:1f.1: reg 0x18: [io  0x0000-0x0007]
[    0.277684] pci 0000:00:1f.1: reg 0x1c: [io  0x0000-0x0003]
[    0.277694] pci 0000:00:1f.1: reg 0x20: [io  0x3800-0x380f]
[    0.277715] pci 0000:00:1f.1: legacy IDE quirk: reg 0x10: [io  0x01f0-0x01f7]
[    0.277718] pci 0000:00:1f.1: legacy IDE quirk: reg 0x14: [io  0x03f6]
[    0.277720] pci 0000:00:1f.1: legacy IDE quirk: reg 0x18: [io  0x0170-0x0177]
[    0.277723] pci 0000:00:1f.1: legacy IDE quirk: reg 0x1c: [io  0x0376]
[    0.277863] pci 0000:00:1f.2: [8086:2651] type 00 class 0x01018f
[    0.277881] pci 0000:00:1f.2: reg 0x10: [io  0x3830-0x3837]
[    0.277890] pci 0000:00:1f.2: reg 0x14: [io  0x3824-0x3827]
[    0.277899] pci 0000:00:1f.2: reg 0x18: [io  0x3828-0x382f]
[    0.277908] pci 0000:00:1f.2: reg 0x1c: [io  0x3820-0x3823]
[    0.277917] pci 0000:00:1f.2: reg 0x20: [io  0x3810-0x381f]
[    0.277964] pci 0000:00:1f.2: PME# supported from D3hot
[    0.278106] pci 0000:00:1f.3: [8086:266a] type 00 class 0x0c0500
[    0.278165] pci 0000:00:1f.3: reg 0x20: [io  0x3400-0x341f]
[    0.278316] pci 0000:00:1c.0: PCI bridge to [bus 03]
[    0.278378] pci 0000:00:1c.1: PCI bridge to [bus 05]
[    0.278442] pci 0000:00:1c.2: PCI bridge to [bus 07]
[    0.278499] pci 0000:00:1c.3: PCI bridge to [bus 09]
[    0.278529] pci_bus 0000:0b: extended config space not accessible
[    0.278579] pci 0000:0b:04.0: [10ec:8139] type 00 class 0x020000
[    0.278606] pci 0000:0b:04.0: reg 0x10: [io  0x4000-0x40ff]
[    0.278621] pci 0000:0b:04.0: reg 0x14: [mem 0xf0100000-0xf01000ff]
[    0.278733] pci 0000:0b:04.0: supports D1 D2
[    0.278736] pci 0000:0b:04.0: PME# supported from D1 D2 D3hot D3cold
[    0.278818] pci 0000:0b:05.0: [1186:4300] type 00 class 0x020000
[    0.278846] pci 0000:0b:05.0: reg 0x10: [io  0x4400-0x44ff]
[    0.278861] pci 0000:0b:05.0: reg 0x14: [mem 0xf0100400-0xf01004ff]
[    0.278924] pci 0000:0b:05.0: reg 0x30: [mem 0x00000000-0x0001ffff pref]
[    0.278972] pci 0000:0b:05.0: supports D1 D2
[    0.278975] pci 0000:0b:05.0: PME# supported from D1 D2 D3hot D3cold
[    0.279090] pci 0000:00:1e.0: PCI bridge to [bus 0b] (subtractive decode)
[    0.279096] pci 0000:00:1e.0:   bridge window [io  0x4000-0x4fff]
[    0.279102] pci 0000:00:1e.0:   bridge window [mem 0xf0100000-0xf01fffff]
[    0.279109] pci 0000:00:1e.0:   bridge window [io  0x0000-0x0cf7 window] (subtractive decode)
[    0.279114] pci 0000:00:1e.0:   bridge window [io  0x0d00-0xffff window] (subtractive decode)
[    0.279116] pci 0000:00:1e.0:   bridge window [mem 0x000a0000-0x000bffff window] (subtractive decode)
[    0.279119] pci 0000:00:1e.0:   bridge window [mem 0x000c8000-0x000dffff window] (subtractive decode)
[    0.279122] pci 0000:00:1e.0:   bridge window [mem 0x40000000-0xcfffffff window] (subtractive decode)
[    0.279124] pci 0000:00:1e.0:   bridge window [mem 0xe0000000-0xfebfffff window] (subtractive decode)
[    0.279127] pci 0000:00:1e.0:   bridge window [mem 0xfed00400-0xfedfffff window] (subtractive decode)
[    0.279130] pci 0000:00:1e.0:   bridge window [mem 0xfef00000-0xffafffff window] (subtractive decode)
[    0.279133] pci 0000:00:1e.0:   bridge window [mem 0xffc00000-0xffefffff window] (subtractive decode)
[    0.279604] ACPI: PCI: Interrupt link LNKA configured for IRQ 9
[    0.279780] ACPI: PCI: Interrupt link LNKB configured for IRQ 11
[    0.279951] ACPI: PCI: Interrupt link LNKC configured for IRQ 11
[    0.280122] ACPI: PCI: Interrupt link LNKD configured for IRQ 9
[    0.280294] ACPI: PCI: Interrupt link LNKE configured for IRQ 9
[    0.280463] ACPI: PCI: Interrupt link LNKF configured for IRQ 5
[    0.280633] ACPI: PCI: Interrupt link LNKG configured for IRQ 10
[    0.280831] ACPI: PCI: Interrupt link LNKH configured for IRQ 11
[    0.282081] iommu: Default domain type: Translated 
[    0.282088] iommu: DMA domain TLB invalidation policy: lazy mode 
[    0.282483] SCSI subsystem initialized
[    0.282655] libata version 3.00 loaded.
[    0.282675] ACPI: bus type USB registered
[    0.282725] usbcore: registered new interface driver usbfs
[    0.282741] usbcore: registered new interface driver hub
[    0.282755] usbcore: registered new device driver usb
[    0.282830] pps_core: LinuxPPS API ver. 1 registered
[    0.282833] pps_core: Software ver. 5.3.6 - Copyright 2005-2007 Rodolfo Giometti <giometti@linux.it>
[    0.282839] PTP clock support registered
[    0.282861] EDAC MC: Ver: 3.0.0
[    0.283544] NetLabel: Initializing
[    0.283550] NetLabel:  domain hash size = 128
[    0.283553] NetLabel:  protocols = UNLABELED CIPSOv4 CALIPSO
[    0.283596] NetLabel:  unlabeled traffic allowed by default
[    0.283604] mctp: management component transport protocol core
[    0.283607] NET: Registered PF_MCTP protocol family
[    0.283615] PCI: Using ACPI for IRQ routing
[    0.283795] PCI: pci_cache_line_size set to 64 bytes
[    0.283868] Expanded resource Reserved due to conflict with INT0800:00
[    0.283870] e820: reserve RAM buffer [mem 0x0009f800-0x0009ffff]
[    0.283874] e820: reserve RAM buffer [mem 0x3f6f0000-0x3fffffff]
[    0.283976] pci 0000:00:02.0: vgaarb: setting as boot VGA device
[    0.283981] pci 0000:00:02.0: vgaarb: bridge control possible
[    0.283984] pci 0000:00:02.0: vgaarb: VGA device added: decodes=io+mem,owns=io+mem,locks=none
[    0.283993] vgaarb: loaded
[    0.284267] clocksource: hpet: mask: 0xffffffff max_cycles: 0xffffffff, max_idle_ns: 133484882848 ns
[    0.284291] hpet: 3 channels of 0 reserved for per-cpu timers
[    0.284295] hpet0: at MMIO 0xfed00000, IRQs 2, 8, 0
[    0.284303] hpet0: 3 comparators, 64-bit 14.318180 MHz counter
[    0.286451] clocksource: Switched to clocksource tsc-early
[    0.315353] VFS: Disk quotas dquot_6.6.0
[    0.315398] VFS: Dquot-cache hash table entries: 512 (order 0, 4096 bytes)
[    0.315557] pnp: PnP ACPI init
[    0.315886] system 00:00: [io  0x0cb0-0x0cbb] has been reserved
[    0.316587] system 00:01: [io  0x04d0-0x04d1] has been reserved
[    0.316595] system 00:01: [io  0xf000-0xf07f] has been reserved
[    0.316599] system 00:01: [io  0xf100-0xf10f] has been reserved
[    0.316603] system 00:01: [io  0xf180-0xf1bf] has been reserved
[    0.316606] system 00:01: [io  0x0800-0x087f] has been reserved
[    0.316609] system 00:01: [io  0xf820-0xf82f] has been reserved
[    0.316612] system 00:01: [io  0xfe00] has been reserved
[    0.316617] system 00:01: [mem 0xfec00000-0xfecfffff] could not be reserved
[    0.316625] system 00:01: [mem 0xfee00000-0xfeefffff] has been reserved
[    0.316635] system 00:01: [mem 0xfebfc000-0xfebfffff] has been reserved
[    0.316640] system 00:01: [mem 0xfed13000-0xfed13fff] has been reserved
[    0.316644] system 00:01: [mem 0xfed14000-0xfed17fff] has been reserved
[    0.316648] system 00:01: [mem 0xfed18000-0xfed18fff] has been reserved
[    0.316651] system 00:01: [mem 0xfed19000-0xfed19fff] has been reserved
[    0.316655] system 00:01: [mem 0xd0000000-0xdfffffff] has been reserved
[    0.317114] pnp 00:05: [dma 2]
[    0.317758] pnp 00:06: [dma 3]
[    0.318285] pnp: PnP ACPI: found 8 devices
[    0.329879] clocksource: acpi_pm: mask: 0xffffff max_cycles: 0xffffff, max_idle_ns: 2085701024 ns
[    0.330050] NET: Registered PF_INET protocol family
[    0.330177] IP idents hash table entries: 16384 (order: 5, 131072 bytes, linear)
[    0.333973] tcp_listen_portaddr_hash hash table entries: 512 (order: 1, 8192 bytes, linear)
[    0.334128] Table-perturb hash table entries: 65536 (order: 6, 262144 bytes, linear)
[    0.334162] TCP established hash table entries: 8192 (order: 4, 65536 bytes, linear)
[    0.334245] TCP bind hash table entries: 8192 (order: 5, 131072 bytes, linear)
[    0.334282] TCP: Hash tables configured (established 8192 bind 8192)
[    0.334534] MPTCP token hash table entries: 1024 (order: 2, 24576 bytes, linear)
[    0.334590] UDP hash table entries: 512 (order: 2, 16384 bytes, linear)
[    0.334619] UDP-Lite hash table entries: 512 (order: 2, 16384 bytes, linear)
[    0.334741] NET: Registered PF_UNIX/PF_LOCAL protocol family
[    0.334755] NET: Registered PF_XDP protocol family
[    0.334775] pci 0000:00:1c.0: bridge window [io  0x1000-0x0fff] to [bus 03] add_size 1000
[    0.334785] pci 0000:00:1c.0: bridge window [mem 0x00100000-0x000fffff 64bit pref] to [bus 03] add_size 200000 add_align 100000
[    0.334791] pci 0000:00:1c.0: bridge window [mem 0x00100000-0x000fffff] to [bus 03] add_size 200000 add_align 100000
[    0.334796] pci 0000:00:1c.1: bridge window [io  0x1000-0x0fff] to [bus 05] add_size 1000
[    0.334800] pci 0000:00:1c.1: bridge window [mem 0x00100000-0x000fffff 64bit pref] to [bus 05] add_size 200000 add_align 100000
[    0.334804] pci 0000:00:1c.1: bridge window [mem 0x00100000-0x000fffff] to [bus 05] add_size 200000 add_align 100000
[    0.334809] pci 0000:00:1c.2: bridge window [io  0x1000-0x0fff] to [bus 07] add_size 1000
[    0.334812] pci 0000:00:1c.2: bridge window [mem 0x00100000-0x000fffff 64bit pref] to [bus 07] add_size 200000 add_align 100000
[    0.334817] pci 0000:00:1c.2: bridge window [mem 0x00100000-0x000fffff] to [bus 07] add_size 200000 add_align 100000
[    0.334821] pci 0000:00:1c.3: bridge window [io  0x1000-0x0fff] to [bus 09] add_size 1000
[    0.334825] pci 0000:00:1c.3: bridge window [mem 0x00100000-0x000fffff 64bit pref] to [bus 09] add_size 200000 add_align 100000
[    0.334829] pci 0000:00:1c.3: bridge window [mem 0x00100000-0x000fffff] to [bus 09] add_size 200000 add_align 100000
[    0.334872] pci 0000:00:1c.0: BAR 14: assigned [mem 0x40000000-0x401fffff]
[    0.334884] pci 0000:00:1c.0: BAR 15: assigned [mem 0x40200000-0x403fffff 64bit pref]
[    0.334888] pci 0000:00:1c.1: BAR 14: assigned [mem 0x40400000-0x405fffff]
[    0.334896] pci 0000:00:1c.1: BAR 15: assigned [mem 0x40600000-0x407fffff 64bit pref]
[    0.334900] pci 0000:00:1c.2: BAR 14: assigned [mem 0x40800000-0x409fffff]
[    0.334907] pci 0000:00:1c.2: BAR 15: assigned [mem 0x40a00000-0x40bfffff 64bit pref]
[    0.334912] pci 0000:00:1c.3: BAR 14: assigned [mem 0x40c00000-0x40dfffff]
[    0.334919] pci 0000:00:1c.3: BAR 15: assigned [mem 0x40e00000-0x40ffffff 64bit pref]
[    0.334925] pci 0000:00:1c.0: BAR 13: assigned [io  0x5000-0x5fff]
[    0.334929] pci 0000:00:1c.1: BAR 13: assigned [io  0x6000-0x6fff]
[    0.334933] pci 0000:00:1c.2: BAR 13: assigned [io  0x7000-0x7fff]
[    0.334937] pci 0000:00:1c.3: BAR 13: assigned [io  0x8000-0x8fff]
[    0.334948] pci 0000:00:1c.0: PCI bridge to [bus 03]
[    0.334953] pci 0000:00:1c.0:   bridge window [io  0x5000-0x5fff]
[    0.334961] pci 0000:00:1c.0:   bridge window [mem 0x40000000-0x401fffff]
[    0.335041] pci 0000:00:1c.0:   bridge window [mem 0x40200000-0x403fffff 64bit pref]
[    0.335049] pci 0000:00:1c.1: PCI bridge to [bus 05]
[    0.335053] pci 0000:00:1c.1:   bridge window [io  0x6000-0x6fff]
[    0.335058] pci 0000:00:1c.1:   bridge window [mem 0x40400000-0x405fffff]
[    0.335063] pci 0000:00:1c.1:   bridge window [mem 0x40600000-0x407fffff 64bit pref]
[    0.335069] pci 0000:00:1c.2: PCI bridge to [bus 07]
[    0.335072] pci 0000:00:1c.2:   bridge window [io  0x7000-0x7fff]
[    0.335077] pci 0000:00:1c.2:   bridge window [mem 0x40800000-0x409fffff]
[    0.335082] pci 0000:00:1c.2:   bridge window [mem 0x40a00000-0x40bfffff 64bit pref]
[    0.335090] pci 0000:00:1c.3: PCI bridge to [bus 09]
[    0.335093] pci 0000:00:1c.3:   bridge window [io  0x8000-0x8fff]
[    0.335098] pci 0000:00:1c.3:   bridge window [mem 0x40c00000-0x40dfffff]
[    0.335102] pci 0000:00:1c.3:   bridge window [mem 0x40e00000-0x40ffffff 64bit pref]
[    0.335113] pci 0000:0b:05.0: BAR 6: assigned [mem 0xf0120000-0xf013ffff pref]
[    0.335118] pci 0000:00:1e.0: PCI bridge to [bus 0b]
[    0.335122] pci 0000:00:1e.0:   bridge window [io  0x4000-0x4fff]
[    0.335127] pci 0000:00:1e.0:   bridge window [mem 0xf0100000-0xf01fffff]
[    0.335137] pci_bus 0000:00: resource 4 [io  0x0000-0x0cf7 window]
[    0.335141] pci_bus 0000:00: resource 5 [io  0x0d00-0xffff window]
[    0.335143] pci_bus 0000:00: resource 6 [mem 0x000a0000-0x000bffff window]
[    0.335146] pci_bus 0000:00: resource 7 [mem 0x000c8000-0x000dffff window]
[    0.335148] pci_bus 0000:00: resource 8 [mem 0x40000000-0xcfffffff window]
[    0.335151] pci_bus 0000:00: resource 9 [mem 0xe0000000-0xfebfffff window]
[    0.335154] pci_bus 0000:00: resource 10 [mem 0xfed00400-0xfedfffff window]
[    0.335156] pci_bus 0000:00: resource 11 [mem 0xfef00000-0xffafffff window]
[    0.335159] pci_bus 0000:00: resource 12 [mem 0xffc00000-0xffefffff window]
[    0.335162] pci_bus 0000:03: resource 0 [io  0x5000-0x5fff]
[    0.335164] pci_bus 0000:03: resource 1 [mem 0x40000000-0x401fffff]
[    0.335167] pci_bus 0000:03: resource 2 [mem 0x40200000-0x403fffff 64bit pref]
[    0.335170] pci_bus 0000:05: resource 0 [io  0x6000-0x6fff]
[    0.335172] pci_bus 0000:05: resource 1 [mem 0x40400000-0x405fffff]
[    0.335175] pci_bus 0000:05: resource 2 [mem 0x40600000-0x407fffff 64bit pref]
[    0.335178] pci_bus 0000:07: resource 0 [io  0x7000-0x7fff]
[    0.335180] pci_bus 0000:07: resource 1 [mem 0x40800000-0x409fffff]
[    0.335183] pci_bus 0000:07: resource 2 [mem 0x40a00000-0x40bfffff 64bit pref]
[    0.335186] pci_bus 0000:09: resource 0 [io  0x8000-0x8fff]
[    0.335188] pci_bus 0000:09: resource 1 [mem 0x40c00000-0x40dfffff]
[    0.335191] pci_bus 0000:09: resource 2 [mem 0x40e00000-0x40ffffff 64bit pref]
[    0.335194] pci_bus 0000:0b: resource 0 [io  0x4000-0x4fff]
[    0.335196] pci_bus 0000:0b: resource 1 [mem 0xf0100000-0xf01fffff]
[    0.335199] pci_bus 0000:0b: resource 4 [io  0x0000-0x0cf7 window]
[    0.335201] pci_bus 0000:0b: resource 5 [io  0x0d00-0xffff window]
[    0.335204] pci_bus 0000:0b: resource 6 [mem 0x000a0000-0x000bffff window]
[    0.335206] pci_bus 0000:0b: resource 7 [mem 0x000c8000-0x000dffff window]
[    0.335209] pci_bus 0000:0b: resource 8 [mem 0x40000000-0xcfffffff window]
[    0.335211] pci_bus 0000:0b: resource 9 [mem 0xe0000000-0xfebfffff window]
[    0.335214] pci_bus 0000:0b: resource 10 [mem 0xfed00400-0xfedfffff window]
[    0.335216] pci_bus 0000:0b: resource 11 [mem 0xfef00000-0xffafffff window]
[    0.335219] pci_bus 0000:0b: resource 12 [mem 0xffc00000-0xffefffff window]
[    0.337459] PCI: CLS 32 bytes, default 64
[    0.337622] Trying to unpack rootfs image as initramfs...
[    0.342572] Initialise system trusted keyrings
[    0.342609] Key type blacklist registered
[    0.345268] workingset: timestamp_bits=41 max_order=18 bucket_order=0
[    0.347986] zbud: loaded
[    0.352246] integrity: Platform Keyring initialized
[    0.352264] integrity: Machine keyring initialized
[    0.373244] Key type asymmetric registered
[    0.373256] Asymmetric key parser 'x509' registered
[    0.640022] Freeing initrd memory: 13040K
[    0.646301] alg: self-tests for CTR-KDF (hmac(sha256)) passed
[    0.646363] Block layer SCSI generic (bsg) driver version 0.4 loaded (major 242)
[    0.646492] io scheduler mq-deadline registered
[    0.646499] io scheduler kyber registered
[    0.646612] io scheduler bfq registered
[    0.647325] pcieport 0000:00:1c.0: enabling device (0100 -> 0103)
[    0.647724] pcieport 0000:00:1c.1: enabling device (0100 -> 0103)
[    0.648007] pcieport 0000:00:1c.2: enabling device (0100 -> 0103)
[    0.648272] pcieport 0000:00:1c.3: enabling device (0100 -> 0103)
[    0.648733] shpchp: Standard Hot Plug PCI Controller Driver version: 0.4
[    0.648927] input: Power Button as /devices/LNXSYSTM:00/LNXSYBUS:00/PNP0C0C:00/input/input0
[    0.648976] ACPI: button: Power Button [PWRB]
[    0.649048] input: Power Button as /devices/LNXSYSTM:00/LNXPWRBN:00/input/input1
[    0.649139] ACPI: button: Power Button [PWRF]
[    0.649793] Serial: 8250/16550 driver, 32 ports, IRQ sharing enabled
[    0.649987] 00:07: ttyS0 at I/O 0x3f8 (irq = 4, base_baud = 115200) is a 16550A
[    0.653237] Non-volatile memory driver v1.3
[    0.653244] Linux agpgart interface v0.103
[    0.653247] AMD-Vi: AMD IOMMUv2 functionality not available on this system - This is not a bug.
[    0.653259] ACPI: bus type drm_connector registered
[    0.654058] ehci_hcd: USB 2.0 'Enhanced' Host Controller (EHCI) Driver
[    0.654070] ehci-pci: EHCI PCI platform driver
[    0.654427] ehci-pci 0000:00:1d.7: EHCI Host Controller
[    0.654442] ehci-pci 0000:00:1d.7: new USB bus registered, assigned bus number 1
[    0.654460] ehci-pci 0000:00:1d.7: debug port 1
[    0.658431] ehci-pci 0000:00:1d.7: irq 23, io mem 0xf0004000
[    0.671638] ehci-pci 0000:00:1d.7: USB 2.0 started, EHCI 1.00
[    0.671803] usb usb1: New USB device found, idVendor=1d6b, idProduct=0002, bcdDevice= 5.18
[    0.671809] usb usb1: New USB device strings: Mfr=3, Product=2, SerialNumber=1
[    0.671812] usb usb1: Product: EHCI Host Controller
[    0.671815] usb usb1: Manufacturer: Linux 5.18.10-arch1-1 ehci_hcd
[    0.671818] usb usb1: SerialNumber: 0000:00:1d.7
[    0.672031] hub 1-0:1.0: USB hub found
[    0.672048] hub 1-0:1.0: 8 ports detected
[    0.672445] ohci_hcd: USB 1.1 'Open' Host Controller (OHCI) Driver
[    0.672460] ohci-pci: OHCI PCI platform driver
[    0.672480] uhci_hcd: USB Universal Host Controller Interface driver
[    0.672812] uhci_hcd 0000:00:1d.0: UHCI Host Controller
[    0.672827] uhci_hcd 0000:00:1d.0: new USB bus registered, assigned bus number 2
[    0.672857] uhci_hcd 0000:00:1d.0: detected 2 ports
[    0.672884] uhci_hcd 0000:00:1d.0: irq 23, io port 0x00002400
[    0.673004] usb usb2: New USB device found, idVendor=1d6b, idProduct=0001, bcdDevice= 5.18
[    0.673011] usb usb2: New USB device strings: Mfr=3, Product=2, SerialNumber=1
[    0.673014] usb usb2: Product: UHCI Host Controller
[    0.673017] usb usb2: Manufacturer: Linux 5.18.10-arch1-1 uhci_hcd
[    0.673019] usb usb2: SerialNumber: 0000:00:1d.0
[    0.673219] hub 2-0:1.0: USB hub found
[    0.673236] hub 2-0:1.0: 2 ports detected
[    0.673755] uhci_hcd 0000:00:1d.1: UHCI Host Controller
[    0.673769] uhci_hcd 0000:00:1d.1: new USB bus registered, assigned bus number 3
[    0.673779] uhci_hcd 0000:00:1d.1: detected 2 ports
[    0.673818] uhci_hcd 0000:00:1d.1: irq 22, io port 0x00002800
[    0.673945] usb usb3: New USB device found, idVendor=1d6b, idProduct=0001, bcdDevice= 5.18
[    0.673951] usb usb3: New USB device strings: Mfr=3, Product=2, SerialNumber=1
[    0.673955] usb usb3: Product: UHCI Host Controller
[    0.673957] usb usb3: Manufacturer: Linux 5.18.10-arch1-1 uhci_hcd
[    0.673960] usb usb3: SerialNumber: 0000:00:1d.1
[    0.674155] hub 3-0:1.0: USB hub found
[    0.674170] hub 3-0:1.0: 2 ports detected
[    0.674702] uhci_hcd 0000:00:1d.2: UHCI Host Controller
[    0.674718] uhci_hcd 0000:00:1d.2: new USB bus registered, assigned bus number 4
[    0.674728] uhci_hcd 0000:00:1d.2: detected 2 ports
[    0.674776] uhci_hcd 0000:00:1d.2: irq 21, io port 0x00002c00
[    0.674899] usb usb4: New USB device found, idVendor=1d6b, idProduct=0001, bcdDevice= 5.18
[    0.674905] usb usb4: New USB device strings: Mfr=3, Product=2, SerialNumber=1
[    0.674908] usb usb4: Product: UHCI Host Controller
[    0.674911] usb usb4: Manufacturer: Linux 5.18.10-arch1-1 uhci_hcd
[    0.674914] usb usb4: SerialNumber: 0000:00:1d.2
[    0.675167] hub 4-0:1.0: USB hub found
[    0.675184] hub 4-0:1.0: 2 ports detected
[    0.675724] uhci_hcd 0000:00:1d.3: UHCI Host Controller
[    0.675739] uhci_hcd 0000:00:1d.3: new USB bus registered, assigned bus number 5
[    0.675750] uhci_hcd 0000:00:1d.3: detected 2 ports
[    0.675794] uhci_hcd 0000:00:1d.3: irq 20, io port 0x00003000
[    0.675947] usb usb5: New USB device found, idVendor=1d6b, idProduct=0001, bcdDevice= 5.18
[    0.675953] usb usb5: New USB device strings: Mfr=3, Product=2, SerialNumber=1
[    0.675957] usb usb5: Product: UHCI Host Controller
[    0.675960] usb usb5: Manufacturer: Linux 5.18.10-arch1-1 uhci_hcd
[    0.675962] usb usb5: SerialNumber: 0000:00:1d.3
[    0.676158] hub 5-0:1.0: USB hub found
[    0.676174] hub 5-0:1.0: 2 ports detected
[    0.676498] usbcore: registered new interface driver usbserial_generic
[    0.676511] usbserial: USB Serial support registered for generic
[    0.676685] rtc_cmos 00:02: RTC can wake from S4
[    0.677028] rtc_cmos 00:02: registered as rtc0
[    0.677064] rtc_cmos 00:02: setting system clock to 2022-07-13T15:06:48 UTC (1657724808)
[    0.677108] rtc_cmos 00:02: alarms up to one month, y3k, 114 bytes nvram, hpet irqs
[    0.677234] intel_pstate: CPU model not supported
[    0.677251] ledtrig-cpu: registered to indicate activity on CPUs
[    0.677758] hid: raw HID events driver (C) Jiri Kosina
[    0.677948] drop_monitor: Initializing network drop monitor service
[    0.717558] Initializing XFRM netlink socket
[    0.717826] NET: Registered PF_INET6 protocol family
[    0.724609] Segment Routing with IPv6
[    0.724619] RPL Segment Routing with IPv6
[    0.724661] In-situ OAM (IOAM) with IPv6
[    0.724724] NET: Registered PF_PACKET protocol family
[    0.725197] microcode: sig=0xf64, pf=0x4, revision=0x4
[    0.725217] microcode: Microcode Update Driver: v2.2.
[    0.725226] IPI shorthand broadcast: enabled
[    0.725244] sched_clock: Marking stable (722795253, 2177612)->(727894250, -2921385)
[    0.725480] registered taskstats version 1
[    0.725567] Loading compiled-in X.509 certificates
[    0.735194] Loaded X.509 cert 'Build time autogenerated kernel key: 6927223a15ca79983748832c10829e0f88cb62f5'
[    0.735614] zswap: loaded using pool lz4/z3fold
[    0.736005] Key type ._fscrypt registered
[    0.736012] Key type .fscrypt registered
[    0.736013] Key type fscrypt-provisioning registered
[    0.739142] PM:   Magic number: 14:637:133
[    0.739236] acpi device:08: hash matches
[    0.739484] RAS: Correctable Errors collector initialized.
[    0.746776] Freeing unused decrypted memory: 2036K
[    0.748384] Freeing unused kernel image (initmem) memory: 1860K
[    0.754977] Write protecting the kernel read-only data: 28672k
[    0.756843] Freeing unused kernel image (text/rodata gap) memory: 2040K
[    0.757870] Freeing unused kernel image (rodata/data gap) memory: 1284K
[    0.783616] x86/mm: Checked W+X mappings: passed, no W+X pages found.
[    0.783630] rodata_test: all tests were successful
[    0.783668] Run /init as init process
[    0.783671]   with arguments:
[    0.783673]     /init
[    0.783675]   with environment:
[    0.783676]     HOME=/
[    0.783678]     TERM=linux
[    0.783679]     BOOT_IMAGE=../vmlinuz-linux
[    0.783681]     cryptdevice=/dev/sda2:sysdisk
[    1.055410] usb 4-2: new low-speed USB device number 2 using uhci_hcd
[    1.217878] Floppy drive(s): fd0 is 1.44M
[    1.241229] FDC 0 is a post-1991 82077
[    1.247068] usb 4-2: New USB device found, idVendor=046d, idProduct=c077, bcdDevice=72.00
[    1.247080] usb 4-2: New USB device strings: Mfr=1, Product=2, SerialNumber=0
[    1.247084] usb 4-2: Product: USB Optical Mouse
[    1.247087] usb 4-2: Manufacturer: Logitech
[    1.252244] ata_piix 0000:00:1f.1: version 2.13
[    1.276814] scsi host0: ata_piix
[    1.277188] i8042: PNP: PS/2 Controller [PNP0303:KEYB,PNP0f13:PS2M] at 0x60,0x64 irq 1,12
[    1.284036] scsi host1: ata_piix
[    1.284191] ata1: PATA max UDMA/100 cmd 0x1f0 ctl 0x3f6 bmdma 0x3800 irq 14
[    1.284198] ata2: PATA max UDMA/100 cmd 0x170 ctl 0x376 bmdma 0x3808 irq 15
[    1.284778] ata_piix 0000:00:1f.2: MAP [ P0 P2 P1 P3 ]
[    1.291305] serio: i8042 KBD port at 0x60,0x64 irq 1
[    1.293373] serio: i8042 AUX port at 0x60,0x64 irq 12
[    1.347421] tsc: Refined TSC clocksource calibration: 3191.999 MHz
[    1.347437] clocksource: tsc: mask: 0xffffffffffffffff max_cycles: 0x2e02c398820, max_idle_ns: 440795273435 ns
[    1.347497] clocksource: Switched to clocksource tsc
[    1.396525] input: Logitech USB Optical Mouse as /devices/pci0000:00/0000:00:1d.2/usb4/4-2/4-2:1.0/0003:046D:C077.0001/input/input2
[    1.397183] hid-generic 0003:046D:C077.0001: input,hidraw0: USB HID v1.11 Mouse [Logitech USB Optical Mouse] on usb-0000:00:1d.2-2/input0
[    1.397370] usbcore: registered new interface driver usbhid
[    1.397375] usbhid: USB HID core driver
[    1.454113] scsi host2: ata_piix
[    1.455295] scsi host3: ata_piix
[    1.455397] ata3: SATA max UDMA/133 cmd 0x3830 ctl 0x3824 bmdma 0x3810 irq 18
[    1.455402] ata4: SATA max UDMA/133 cmd 0x3828 ctl 0x3820 bmdma 0x3818 irq 18
[    1.459877] ata1.00: ATAPI: HL-DT-ST RW/DVD GCC-4481B, 1.03, max UDMA/33
[    1.465371] scsi 0:0:0:0: CD-ROM            HL-DT-ST RW/DVD GCC-4481B 1.03 PQ: 0 ANSI: 5
[    1.640978] ata4.00: ATA-7: WDC WD800JD-55MUA1, 10.01E01, max UDMA/133
[    1.640989] ata4.00: 156301488 sectors, multi 16: LBA48 NCQ (depth 0/32)
[    1.643685] scsi 3:0:0:0: Direct-Access     ATA      WDC WD800JD-55MU 1E01 PQ: 0 ANSI: 5
[    1.644669] sd 3:0:0:0: [sda] 156301488 512-byte logical blocks: (80.0 GB/74.5 GiB)
[    1.644698] sd 3:0:0:0: [sda] Write Protect is off
[    1.644702] sd 3:0:0:0: [sda] Mode Sense: 00 3a 00 00
[    1.644735] sd 3:0:0:0: [sda] Write cache: enabled, read cache: enabled, doesn't support DPO or FUA
[    1.657397]  sda: sda1 sda2
[    1.667548] sd 3:0:0:0: [sda] Attached SCSI disk
[    1.743927] input: AT Translated Set 2 keyboard as /devices/platform/i8042/serio0/input/input3
[    1.844853] sr 0:0:0:0: [sr0] scsi3-mmc drive: 48x/48x writer cd/rw xa/form2 cdda tray
[    1.844864] cdrom: Uniform CD-ROM driver Revision: 3.20
[    1.869557] sr 0:0:0:0: Attached scsi CD-ROM sr0
[    2.154044] device-mapper: uevent: version 1.0.3
[    2.155221] device-mapper: ioctl: 4.46.0-ioctl (2022-02-22) initialised: dm-devel@redhat.com
[    2.249687] Key type encrypted registered
[    3.650725] random: crng init done
[   13.269990] cryptd: max_cpu_qlen set to 1000
[   13.864358] EXT4-fs (dm-0): mounted filesystem with ordered data mode. Quota mode: none.
[   16.710053] systemd[1]: systemd 251.2-1-arch running in system mode (+PAM +AUDIT -SELINUX -APPARMOR -IMA +SMACK +SECCOMP +GCRYPT +GNUTLS +OPENSSL +ACL +BLKID +CURL +ELFUTILS +FIDO2 +IDN2 -IDN +IPTC +KMOD +LIBCRYPTSETUP +LIBFDISK +PCRE2 -PWQUALITY +P11KIT -QRENCODE +TPM2 +BZIP2 +LZ4 +XZ +ZLIB +ZSTD -BPF_FRAMEWORK +XKBCOMMON +UTMP -SYSVINIT default-hierarchy=unified)
[   16.710069] systemd[1]: Detected architecture x86-64.
[   16.805097] systemd[1]: Hostname set to <nuna>.
[   18.450209] systemd[1]: Queued start job for default target Graphical Interface.
[   18.453012] systemd[1]: Created slice Slice /system/getty.
[   18.454525] systemd[1]: Created slice Slice /system/modprobe.
[   18.455524] systemd[1]: Created slice User and Session Slice.
[   18.455998] systemd[1]: Started Dispatch Password Requests to Console Directory Watch.
[   18.456402] systemd[1]: Started Forward Password Requests to Wall Directory Watch.
[   18.457087] systemd[1]: Set up automount Arbitrary Executable File Formats File System Automount Point.
[   18.457508] systemd[1]: Reached target Local Encrypted Volumes.
[   18.457791] systemd[1]: Reached target Local Integrity Protected Volumes.
[   18.458059] systemd[1]: Reached target Path Units.
[   18.458283] systemd[1]: Reached target Remote File Systems.
[   18.458494] systemd[1]: Reached target Slice Units.
[   18.458761] systemd[1]: Reached target Local Verity Protected Volumes.
[   18.459208] systemd[1]: Listening on Device-mapper event daemon FIFOs.
[   18.463116] systemd[1]: Listening on Process Core Dump Socket.
[   18.493488] systemd[1]: Journal Audit Socket was skipped because of a failed condition check (ConditionSecurity=audit).
[   18.493971] systemd[1]: Listening on Journal Socket (/dev/log).
[   18.494679] systemd[1]: Listening on Journal Socket.
[   18.495344] systemd[1]: Listening on udev Control Socket.
[   18.495863] systemd[1]: Listening on udev Kernel Socket.
[   18.498705] systemd[1]: Mounting Huge Pages File System...
[   18.502239] systemd[1]: Mounting POSIX Message Queue File System...
[   18.507249] systemd[1]: Mounting Kernel Debug File System...
[   18.510658] systemd[1]: Mounting Kernel Trace File System...
[   18.515611] systemd[1]: Starting Create List of Static Device Nodes...
[   18.533828] systemd[1]: Starting Load Kernel Module configfs...
[   18.541206] systemd[1]: Starting Load Kernel Module drm...
[   18.554316] systemd[1]: Starting Load Kernel Module fuse...
[   18.554797] systemd[1]: File System Check on Root Device was skipped because of a failed condition check (ConditionPathIsReadWrite=!/).
[   18.563600] systemd[1]: Starting Journal Service...
[   18.629387] systemd[1]: Load Kernel Modules was skipped because all trigger condition checks failed.
[   18.632022] systemd[1]: Starting Remount Root and Kernel File Systems...
[   18.633388] systemd[1]: Repartition Root Disk was skipped because all trigger condition checks failed.
[   18.637271] systemd[1]: Starting Apply Kernel Variables...
[   18.641996] systemd[1]: Starting Coldplug All udev Devices...
[   18.648125] systemd[1]: Mounted Huge Pages File System.
[   18.648772] systemd[1]: Mounted POSIX Message Queue File System.
[   18.649386] systemd[1]: Mounted Kernel Debug File System.
[   18.649967] systemd[1]: Mounted Kernel Trace File System.
[   18.650892] systemd[1]: Finished Create List of Static Device Nodes.
[   18.655184] systemd[1]: modprobe@configfs.service: Deactivated successfully.
[   18.655584] systemd[1]: Finished Load Kernel Module configfs.
[   18.656554] systemd[1]: modprobe@drm.service: Deactivated successfully.
[   18.657895] systemd[1]: Finished Load Kernel Module drm.
[   18.669348] systemd[1]: Mounting Kernel Configuration File System...
[   18.678077] systemd[1]: Mounted Kernel Configuration File System.
[   18.719239] EXT4-fs (dm-0): re-mounted. Quota mode: none.
[   18.722506] systemd[1]: Finished Remount Root and Kernel File Systems.
[   18.725709] systemd[1]: Activating swap /swapfile...
[   18.741036] systemd[1]: First Boot Wizard was skipped because of a failed condition check (ConditionFirstBoot=yes).
[   18.777447] fuse: init (API version 7.36)
[   18.896911] systemd[1]: Rebuild Hardware Database was skipped because of a failed condition check (ConditionNeedsUpdate=/etc).
[   18.904712] systemd[1]: Starting Load/Save Random Seed...
[   18.911131] systemd[1]: Create System Users was skipped because of a failed condition check (ConditionNeedsUpdate=/etc).
[   18.922260] systemd[1]: Starting Create Static Device Nodes in /dev...
[   18.923879] systemd[1]: modprobe@fuse.service: Deactivated successfully.
[   18.929184] systemd[1]: Finished Load Kernel Module fuse.
[   18.930876] systemd[1]: Finished Apply Kernel Variables.
[   18.941075] systemd[1]: Mounting FUSE Control File System...
[   19.011345] systemd[1]: Mounted FUSE Control File System.
[   19.017455] systemd[1]: Started Journal Service.
[   19.200957] Adding 2097148k swap on /swapfile.  Priority:-2 extents:3 across:16777212k FS
[   19.220870] systemd-journald[210]: Received client request to flush runtime journal.
[   23.861021] parport_pc 00:06: reported by Plug and Play ACPI
[   23.867523] parport0: PC-style at 0x378 (0x778), irq 7, dma 3 [PCSPP,TRISTATE,COMPAT,EPP,ECP,DMA]
[   25.411672] intel_rng: FWH not detected
[   25.718524] ACPI Warning: SystemIO range 0x000000000000F028-0x000000000000F02F conflicts with OpRegion 0x000000000000F028-0x000000000000F02B (\_SB.PCI0.LPC.GPE0) (20211217/utaddress-204)
[   25.718543] ACPI: OSL: Resource conflict; ACPI support missing from driver?
[   25.718549] ACPI Warning: SystemIO range 0x000000000000F1B0-0x000000000000F1BF conflicts with OpRegion 0x000000000000F180-0x000000000000F1BF (\_SB.PCI0.LPC.GPIC) (20211217/utaddress-204)
[   25.718556] ACPI: OSL: Resource conflict; ACPI support missing from driver?
[   25.718561] ACPI Warning: SystemIO range 0x000000000000F180-0x000000000000F1AF conflicts with OpRegion 0x000000000000F180-0x000000000000F1BF (\_SB.PCI0.LPC.GPIC) (20211217/utaddress-204)
[   25.718569] ACPI Warning: SystemIO range 0x000000000000F180-0x000000000000F1AF conflicts with OpRegion 0x000000000000F19B-0x000000000000F19B (\_SB.PCI0.LPC.LEDB) (20211217/utaddress-204)
[   25.718576] ACPI Warning: SystemIO range 0x000000000000F180-0x000000000000F1AF conflicts with OpRegion 0x000000000000F18F-0x000000000000F18F (\_SB.PCI0.LPC.LEDE) (20211217/utaddress-204)
[   25.718584] ACPI Warning: SystemIO range 0x000000000000F180-0x000000000000F1AF conflicts with OpRegion 0x000000000000F18E-0x000000000000F18E (\_SB.PCI0.LPC.SLPL) (20211217/utaddress-204)
[   25.718590] ACPI: OSL: Resource conflict; ACPI support missing from driver?
[   25.718592] lpc_ich: Resource conflict(s) found affecting gpio_ich
[   25.901749] 8139cp: 8139cp: 10/100 PCI Ethernet driver v1.3 (Mar 22, 2004)
[   25.901762] 8139cp 0000:0b:04.0: This (id 10ec:8139 rev 10) is not an 8139C+ compatible chip, use 8139too
[   25.960442] mousedev: PS/2 mouse device common for all mice
[   26.139720] 8139too: 8139too Fast Ethernet driver 0.9.28
[   26.141451] 8139too 0000:0b:04.0 eth0: RealTek RTL8139 at 0x00000000045506f9, 00:30:05:e0:ca:be, IRQ 19
[   26.808414] i801_smbus 0000:00:1f.3: SMBus using PCI interrupt
[   26.809076] i2c i2c-0: 1/4 memory slots populated (from DMI)
[   26.809087] i2c i2c-0: Memory type 0x12 not supported yet, not instantiating SPD
[   26.841620] r8169 0000:0b:05.0 eth1: RTL8110s, 00:13:46:39:e8:3e, XID 040, IRQ 22
[   26.841635] r8169 0000:0b:05.0 eth1: jumbo features [frames: 7146 bytes, tx checksumming: ok]
[   27.109986] input: PC Speaker as /devices/platform/pcspkr/input/input5
[   27.758839] ppdev: user-space parallel port driver
[   28.005369] iTCO_vendor_support: vendor-support=0
[   28.080481] intel_powerclamp: No package C-state available
[   28.110783] pci 0000:00:00.0: Intel 915G Chipset
[   28.110840] pci 0000:00:00.0: detected gtt size: 262144K total, 262144K mappable
[   28.110937] pci 0000:00:00.0: detected 8192K stolen memory
[   28.110985] i915 0000:00:02.0: vgaarb: deactivate vga console
[   28.114715] Console: switching to colour dummy device 80x25
[   28.124111] resource sanity check: requesting [mem 0x000c0000-0x000dffff], which spans more than PCI Bus 0000:00 [mem 0x000c8000-0x000dffff window]
[   28.124127] caller pci_map_rom+0x69/0x180 mapping multiple BARs
[   28.124588] i915 0000:00:02.0: vgaarb: changed VGA decodes: olddecodes=io+mem,decodes=io+mem:owns=io+mem
[   28.154664] i915 0000:00:02.0: [drm] Initialized overlay support.
[   28.156210] [drm] Initialized i915 1.6.0 20201103 for 0000:00:02.0 on minor 0
[   28.185273] fbcon: i915drmfb (fb0) is primary device
[   28.238147] Console: switching to colour frame buffer device 80x30
[   28.252264] i915 0000:00:02.0: [drm] fb0: i915drmfb frame buffer device
[   28.407607] iTCO_wdt iTCO_wdt.1.auto: Found a ICH6 or ICH6R TCO device (Version=2, TCOBASE=0xf060)
[   28.408091] iTCO_wdt iTCO_wdt.1.auto: initialized. heartbeat=30 sec (nowayout=0)
[   28.485494] snd_hda_codec_realtek hdaudioC0D2: autoconfig for ALC260: line_outs=1 (0x11/0x0/0x0/0x0/0x0) type:speaker
[   28.485508] snd_hda_codec_realtek hdaudioC0D2:    speaker_outs=0 (0x0/0x0/0x0/0x0/0x0)
[   28.485512] snd_hda_codec_realtek hdaudioC0D2:    hp_outs=1 (0xf/0x0/0x0/0x0/0x0)
[   28.485515] snd_hda_codec_realtek hdaudioC0D2:    mono: mono_out=0x0
[   28.485518] snd_hda_codec_realtek hdaudioC0D2:    inputs:
[   28.485520] snd_hda_codec_realtek hdaudioC0D2:      Mic=0x12
[   28.485523] snd_hda_codec_realtek hdaudioC0D2:      Line=0x14
[   28.497246] input: HDA Intel Mic as /devices/pci0000:00/0000:00:1b.0/sound/card0/input7
[   28.497349] input: HDA Intel Line as /devices/pci0000:00/0000:00:1b.0/sound/card0/input8
[   28.497497] input: HDA Intel Headphone as /devices/pci0000:00/0000:00:1b.0/sound/card0/input9
[   31.069613] i2c i2c-0: Found a DME1737 chip at 0x2c (rev 0x8a).
[   31.077835] dme1737 0-002c: Device is not monitoring. Use the force_start load parameter to override.
[   31.078855] dme1737 0-002c: Failed to initialize device.
[   31.079379] dme1737: probe of 0-002c failed with error -14
[   31.743355] 8021q: 802.1Q VLAN Support v1.8
[   32.050005] cfg80211: Loading compiled-in X.509 certificates for regulatory database
[   32.050676] cfg80211: Loaded X.509 cert 'sforshee: 00b28ddf47aef9cea7'
[   32.094842] platform regulatory.0: Direct firmware load for regulatory.db failed with error -2
[   32.094855] cfg80211: failed to load regulatory.db
[   32.731211] 8139too 0000:0b:04.0 eth0: link up, 100Mbps, full-duplex, lpa 0xC5E1
[   32.742973] RTL8211 Gigabit Ethernet r8169-0-b28:00: attached PHY driver (mii_bus:phy_addr=r8169-0-b28:00, irq=MAC)
[   32.817013] r8169 0000:0b:05.0 eth1: Link is Down

Obrázky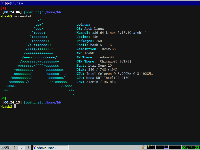 Tiskni Sdílej:






Komentáře
debian+
| skóre: 32 | blog:
analyzy
Re: Instalace archlinuxu na starší PC
13.7. 21:26
14.7. 06:16
Max
| skóre: 71 | blog:
Max_Devaine
Re: Instalace archlinuxu na starší PC

Re: Instalace archlinuxu na starší PC
14.7. 10:36 volani.webnode.cz
VoDo
| skóre: 6 | blog:
Archi3mini
Re: Instalace archlinuxu na starší PC
14.7. 11:24
User682
| skóre: 38 | blog:
aqarium
| Praha
Re: Instalace archlinuxu na starší PC
14.7. 16:28
debian+
| skóre: 32 | blog:
analyzy
Re: Instalace archlinuxu na starší PC
14.7. 16:48
14.7. 18:25

Re: Instalace archlinuxu na starší PC
14.7. 18:32 Radovan